Platform
For data scientists and engineers looking to access an infrastructure enabling scripts configuration, execution, and monitoring.
RefinePro Platform
RefinePro is developing a customizable administration center to help data science and engineering team schedule, configure and monitor data processing jobs written in any language. RefinePro Platform is designed to scale and to adapt to different business workflows. Each component is optimized to lower maintenance overhead, to keep operating costs under control.
Today, teams managing tens to hundreds of jobs use RefinePro Platform to:
| | |
| --- | --- |
| Manage Scripts | Remotely run, save, share and schedule scripts from a self-service interface |
| Boost Productivity & Quality | Formalize development best practices and automate deployment across teams and projects |
| Scale | Scale execution server to grant jobs extra compute power |
| Secure | Improve security by limiting access to environments, servers, and scripts |
Support the full lifecycle
RefinePro's Platform supports the complete development lifecycle.
DevOps and System Administrators
DevOps and system administrators configure environments and deployment workflow. They control user permission per job, server, and environment.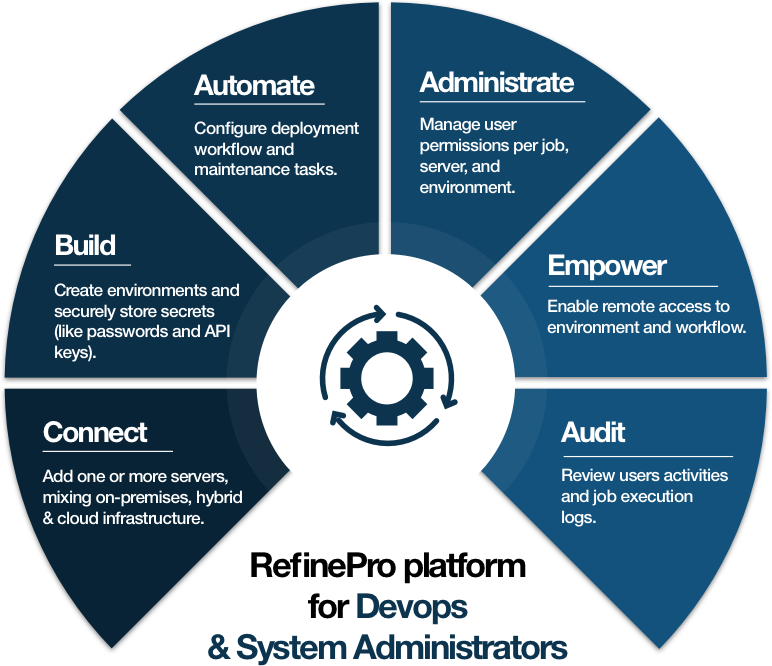 Developer, Data Scientist, and Engineers
Developers, data scientists, and engineers deploy, execute and monitors data processing scripts in a secure and self-service environment. They can delegate the monitoring and configuration tasks to more junior team members or business owners. The Platform offers customized reports and advanced alerts systems.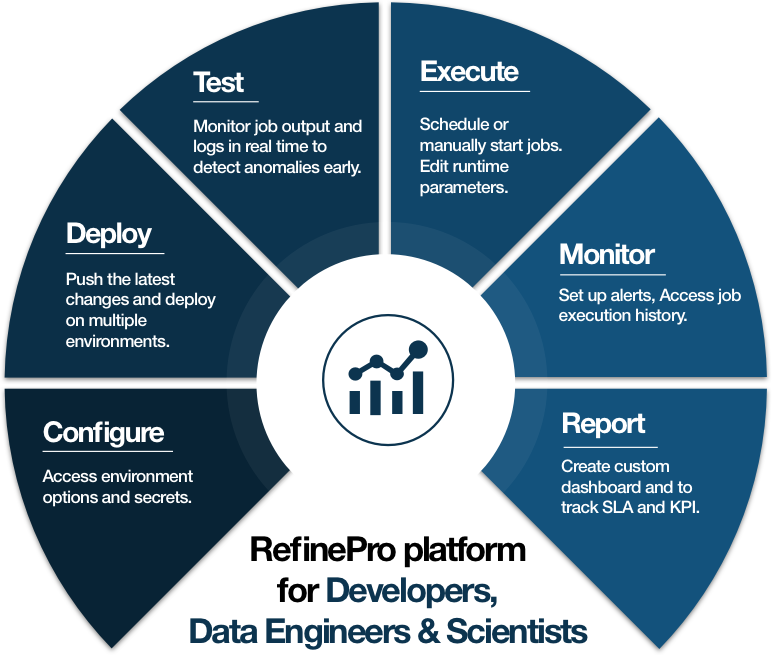 Supported Technology
For each technology, RefinePro provides a preconfigured server to execute jobs
For Consulting Firm and Software Editors
RefinePro's Platform can be customized to support ETL and web scraping software editors along with consulting firms needs.
Lower License Cost

for consultant

Enable team member to schedule and execute jobs without a dedicated software license. Manage multiple environments on the same execution server with a single license.

Offer new management functionalities

for consultant and editors

The RefinePro's Platform is available with a white label agreement. Offer a centralized administration center to your customers for your ETL or web scraping scripts.