Data-First Application Development
Transform your data project into a lean and automated process
Benefits
RefinePro is able to support its clients in two meaningful ways.
Leverage DataOps practices to Automate Existing Processes


Streamline existing workflows by automating data extraction, normalization and validation processes to free up valuable resources.

Create Data-Rich Products, Services and Insights


Combine data available both outside and within the company walls to build a unique vantage point to an industry or market.
End-to-End Services
RefinePro covers the entire data lifecycle, services ranging from identifying data sources to setting up operations.

Working with external data
RefinePro's expertise resides in its capacity to address inconsistencies coming from external data. RefinePro has a proven track record in automating and scaling data acquisition and transformation workflows from unreliable data feeds.
Monitor hundreds of data feed
RefinePro tailors each deployment based on its clients strategy. Projects get quickly off the ground by leveraging existing building blocks and design patterns. Most of those best practices are formalized into
RefinePro's Platform
Process
RefinePro defined a three stages approach to build data-oriented products. Its proven methodology reduces project uncertainties and ensures scalability over time. RefinePro can start a project at any given stage.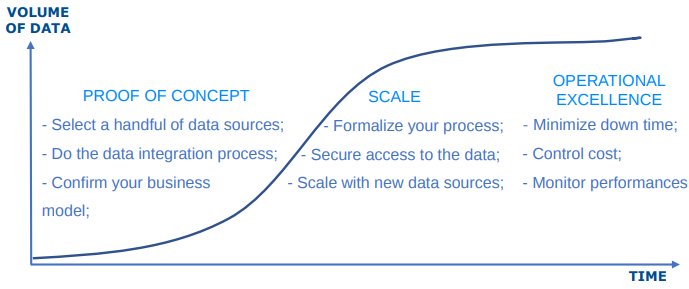 | | |
| --- | --- |
| Proof of Concept | At this stage RefinePro goal is to confirm the project business case, its technical feasibility and budget. RefinePro senior analysts review the project goals and benchmark them against the existing solution. Working closely with the customer team, RefinePro documents the data collection and aggregation process. The proof of concept may include a working prototype covering the complete data lifecycle with few sources. |
| Scale | Following the prototype design or based on clients existing processes, RefinePro formalizes the workflow to strengthen data quality and to secure data sources access. The product is then scaled with additional data sources. |
| Operational Excellence | RefinePro system administrators maintain the infrastructure to minimize downtime and to improve performances. RefinePro managed services monitor scripts execution, update existing script and add new sources on an as-needed basis. |
Delivery
RefinePro delivers data products under two models:
Consulting and skill transfert
In addition to defining and building the process, RefinePro experts train your teams to operate it.
Outsourcing
RefinePro builds the application before monitoring and maintaining scripts via its managed services.
Got a project or idea in mind?
We have the experts to make it happen.
Tell Us About It